When Sheryl Mills turned 50 she moved her life and antiques business from rural Herefordshire to rural Mayenne, and her decision has proved to be more midlife miracle than midlife crisis.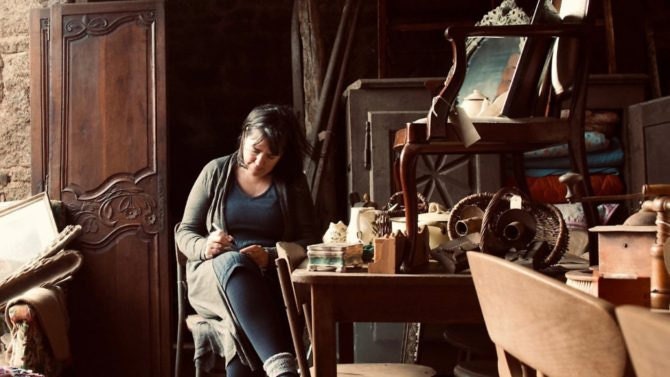 Sheryl looks at home inside her cider barn brocante as she sits on a French-style metal school chair with wooden back and seat, writing up price tags on Kraft paper for vintage gardenalia and linens. 
To the right of where Sheryl is sitting is the main shop frontage, which displays antique furniture, chandeliers, mirrors, rugs and vintage kitchenalia. The lighting is warm and highlights the natural wood grains of the many bedside cabinets, cupboards, dressers, sideboards and washstands that line the thick stone walls.
To her left is the barn's main opening, which leads out to a courtyard filled with old farm equipment including butter makers, carts, cider flagons, fruit picking ladders and milk churns.
Sheryl lives in Mayenne, in the northern part of the Pays de la Loire region which borders southern Normandy, and these faded historical items are a reminder of this area's cider- producing and dairy-farming roots. The courtyard leads to Sheryl's farmhouse with its hexagonal tiled terrace, decorative vintage metal furniture and mix of old pots and planters.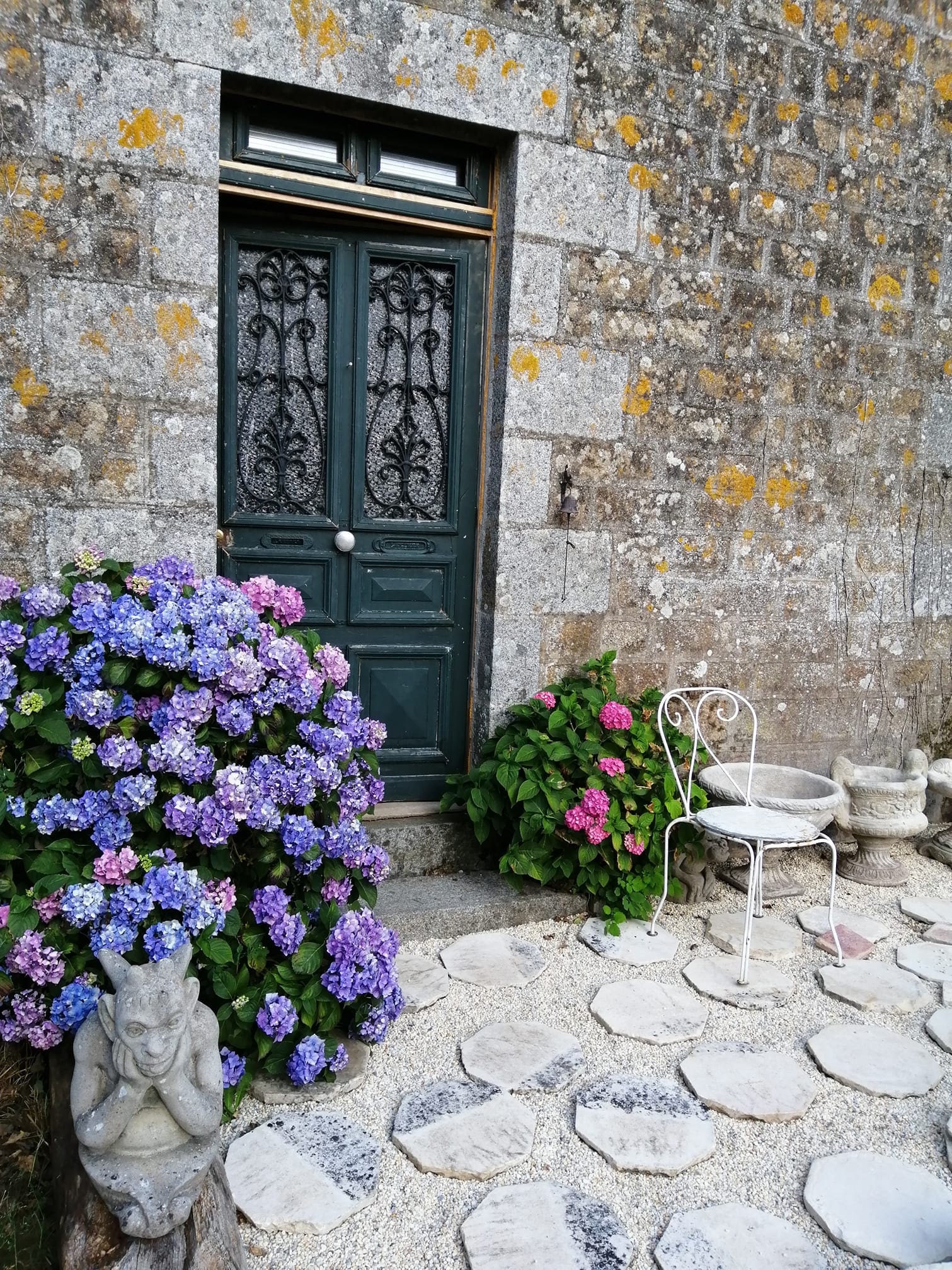 ALADDIN'S CAVE 
The brocante sign, written on a broken roof slate,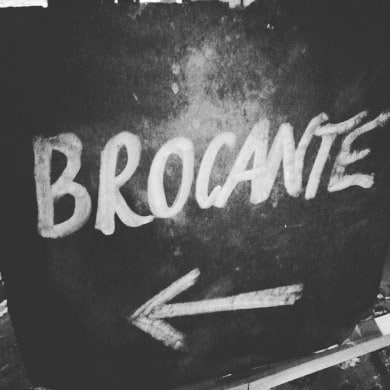 encapsulates the shop's tasteful look. This barn still houses the old cider press and is one of the many outbuildings here that keeps the property's history alive. The cider barn brocante opened its imposing wooden doors to antique bargain hunters in early 2019 and is a natural extension to Sheryl's online antique business that she started in Manchester in the 1990s, after spending a decade studying at Manchester Polytechnic College."The best source of goodies to stock the cider barn brocante and my online antiques shop is the vide-grenier, which is a kind of car boot sale but one that takes over the streets of a whole village or town for a weekend," says Sheryl. "The locals empty out their attics and cellars and the villagers are joined by dealers and brocanteurs so it's a great mix. This really is the thrill of the hunt, unearthing a quirky gem and bargaining to get a great price. Much of what I find ends up in the brocante and I post interesting items on Facebook and Instagram too."
NEW BEGINNINGS
Sheryl decided to move to France after celebrating her 50th birthday in Normandy. "A friend lent us the use of his French holiday home. That first morning I opened the shutters and looked out on a bucolic scene, blossom-filled orchards with sheep and cows grazing beneath. The sudden realisation that I could be happy living in France enveloped me. The countryside of Normandy is very similar to the surrounds of my English home, and property prices are so cheap, it feels like a step back in time. I returned to the UK and set about telling everyone that I was moving to France so that I couldn't chicken out."
Sheryl gave herself a year to make the move, and after internet searches and several house-hunting trips, she extended her search area to include Pays de la Loire. Her eye for a hidden gem is what made her buy a home on the outskirts of Lassay-les-Châteaux – she chanced upon a farmhouse with a photograph of a beautiful cherub-decorated ceiling in one of the main rooms."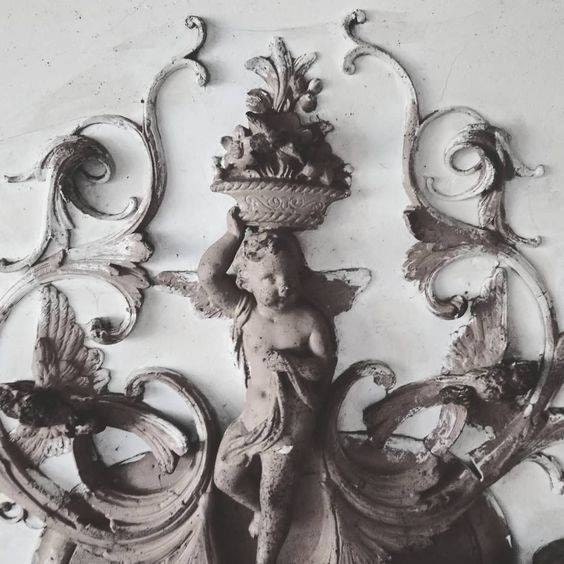 That settled it, I knew this was the house I would buy," says Sheryl. "The reality was even better and I put in an offer, signing the papers a year to the day from that first holiday visit to France." 
The first year in France was spent undertaking renovations to make the farmhouse liveable, as it had no indoor plumbing, and the rudimentary electrics were condemned! The roof leaked like a seive and many of the windows had board instead of glass, in rotten frames. But the bones of the 1700's granite house were good, and some of the decorative details and original features such as the ornate plaster ceilings, panelled walls and marble fireplaces were in remarkably good condition. 
However, rescuing an almost derelict French home is not a cheap undertaking, and soon funds were exhausted. Sheryl decided to create a brocante in the outbuildings of the homestead to help finance the ongoing renovation work. New floors, lighting and staircases were installed in the granite cider pressing barn and adjacent cart barn, and the brocante was opened to the public at Easter in 2019.  In the courtyard is also a small cottage that would once have accommodated the roving cider makers each season and this quaint building has recently been redeveloped as a gîte to provide another income stream. "Every spare penny from purchases made by our lovely customers has been put towards financing another part of the farmhouse and gîte renovation, such as plaster, floor tiles, and bathroom fittings," says Sheryl, who has tackled the project with her partner Nick Bone. "The downstairs of the holiday cottage– with its wheelchair-friendly layout, en-suite bedroom, and open-plan kitchen/dining/living space – is now available to let, (click here to check availability and pricing) with the two en-suite bedrooms upstairs following on as a second phase of the works when finances allow. Our aim is to attract house-hunters and antique dealers on buying trips and to run courses and workshops on furniture painting and upcycling, as well as organising antique hunting tours."
 First published: original version 8 October 2020 by Melissa Raton   later edited and extended.